After a very restful night at the Riverlodge Hotel we deposited most of our stuff and our bikes on their premises and walked down to the ferry dock. We had booked 2 nights to spend on Battle Harbour Island and had to catch our ferry ride.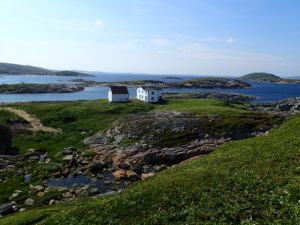 Battle Harbour a summer fishing station, formerly a permanent settlement, located on the Labrador coast. Battle Harbour was for two centuries the economic and social centre of the southeastern Labrador coast. Mercantile saltfish premises first established there in the 1770s developed into a thriving community that was known as the Capital of Labrador. It fell into decline following reductions in the cod fishery and a major fire in 1930, and was abandoned as a permanent settlement following government resettlement activity in the 1960s.
It is now a National Historic Site. Local people from Marry's Harbour have renovated the abandoned houses, have created accommodation for tourists/visitors and now you can spend nights here, they have organized tours for tourists where they explain everything about cod fishing, salting and processing of the fish and what life was like in those days. Most of the people who work here can trace their roots back to someone from this Island. It is truly beautiful, peaceful and quiet here. You can take a walk around this Island in about an hour, sit on the rocks and look over the sea or just daydream. We get fed 3 times a day with local food (fish, of course! apart from other things!)
This is what I call vacation!
Battle Harbour: There is off the beaten path and then there is this place – a magical place.

This is what you will find in Battle Harbour:

You will find a place that is as far from the modern world as you can go without falling off the edge of the earth.

And you will find that distance is best measured in years, not miles.

You will find history.

You will find a sense of the present.

You will not find roads or cars or airports.

But you will find the delight of whales and icebergs and seabirds is more than capable of transporting you.

You will find wilderness.

And peacefulness.

And quiet.

And what life is really all about.